"You never get a second chance to make a first impression". It's a comment that everyone has heard numerous times. We all want to present our best selves and your smile is a very large part of your presentation. So, what does your smile say about you? Does it give the people you meet the message you want to send? If not, we have many techniques to give you the smile of your dreams.

For many people dramatic smile improvement can be achieved with very simple and moderately priced procedures. The following are some of the most common procedures we perform everyday to give our patients their best smile.
Whitening (Tooth Bleaching)
For many people simply improving the color of their teeth causes a dramatic improvement of the smile presentation. We proudly offer Philips Dental – Zoom Whitening products. We have found the take home bleaching products to be the most comfortable and longest lasting bleach techniques available.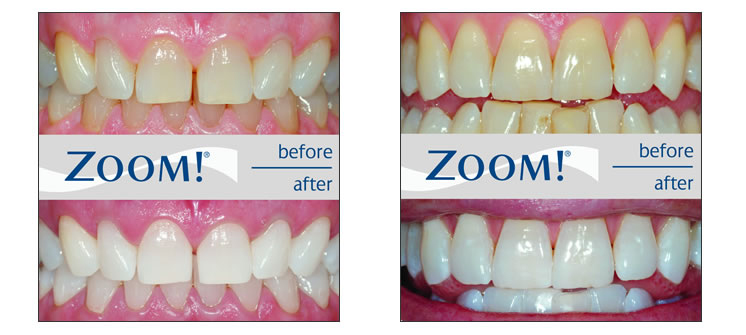 Enameloplasty (Tooth Recontouring)
Enameloplasty is a technique where the tooth is polished and shaped to a more esthetic appearance. This procedure is used to correct minor chipping or to correct the shape of a malformed tooth. With this technique very little tooth is removed but it can lead to an amazing change to your smile's character.

Rapid Orthodontic Treatment – Six Month Smiles
Many people are very concerned about their smile because of crowding or spacing that is unappealing. Traditionally orthodontic therapy would take years to complete and be very expensive. Today we have a terrific system to correct unfavorable tooth position. Six Month Smiles allows us to correct your orthodontic issues in a few months rather than years. Using traditional orthodontic mechanics allows for very predictable treatment outcomes in a shortened time frame.